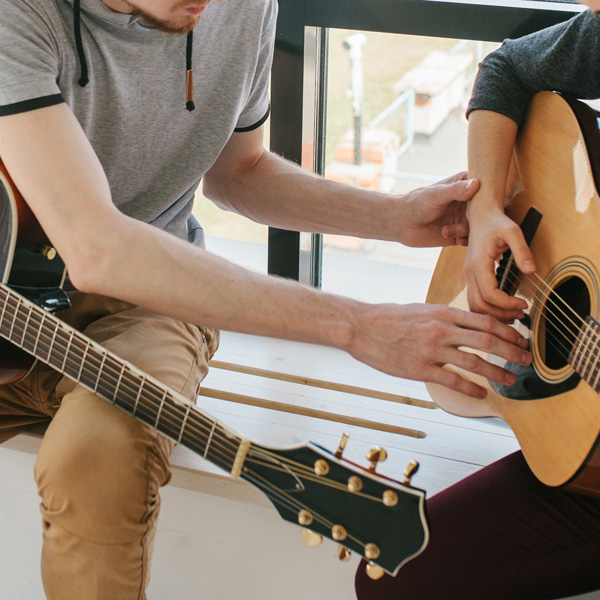 See other Sample MuzicTrain Selections


Some of our tracks...

I Can See Clearly Now
Blame It On Me
El Condor Pasa
Billie Jean
Wipe Out
Stand By Me
Don't Worry Be Happy
Sweet Child of Mine
...and many, many more!

Free Guitar Course

Home
What is a PlayAlong Song?
The playalong songs you find in the PracticeTracks private collection are musical tracks that run in the web browser of most devices - including desktop and laptop computers, tablets, smartphones, and smart TVs.
These musical practicetracks provide a resource for aspiring students and music teachers of various musical instruments to provide a band-like environment for practicing. Our practice tracks provide the usual traditional notation so you can practice melodies, bass parts, keyboard rhythm accompaniments, etc.
But they also provide the added dimension of letting you play along with the band, as the virtual band plays the song in your web browser. This gives you valuable experience at playing along with other musicians, and helps you develop the dexterity and discipline required to play in a band environment.
The Private Collection includes songs you're probably familiar with - popular songs, classic rock and roll songs, and many traditional songs. They may be songs you or your students haven't heard or thought about for years, but are great playalong songs because you played or sang them at camp or hummed along with them on your favourite Top 40 Radio Show when you were younger.
What makes these arrangements unique is that the main parts are broken down so you can play along with them with a variety of instruments such as guitar, bass guitar, keyboard, and drums. Most of the arrangements have lead tracks so you or your music students can play along on your horn, and many have words so you can sing along with the arrangement. That makes them invaluable for aspiring singers too.
That makes PracticeTracks a great resource for enhancing your practice routine. Whether you are a music student learning a new instrument, a bass guitarist in a garage band, a singer looking to expand your ability and repertoire, a band leader looking for new material, or a music teacher looking for more interesting material for your students PracticeTracks.org has something for you.
Here is another sample of the sort of page you will find hundreds of in our Private Collection...