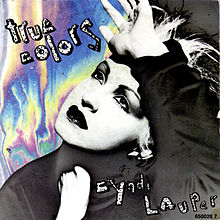 ""True Colors" is a song written by American songwriters Billy Steinberg and Tom Kelly. It was both the title track and the first single released from American singer Cyndi Lauper's second album. It was the only original song on the album that Lauper did not help write.
Although Lauper did not help write the song, she was instrumental in creating her own unique arrangement of the song.
"True Colors" also became, and is still a standard in the gay community. Lauper has stated that the song resonated with her because of the death of her friend, Gregory Natal, from HIV/AIDS. Years later, she co-founded the True Colors Fund, a non-profit dedicated to eradicating LGBT youth homelessness.
Be Patient...Loading!